At Apple's WWDC 2021, along with a host of new features included in iOS 15, iPadOS 15, watchOS 8, and macOS Monterey, they also announced a new feature: Digital Legacy. This feature is meant to allow Apple users to designate another person, a 'legacy contact' who may access and control their account in the event of their death.
Over the years, there have been numerous efforts to lobby with the tech giants (Apple, Facebook, and Google) to introduce a formalized way of accessing a user's account data – emails, pictures, documents, and other content – of a loved one's digital account after their death. Unfortunately, there have been several instances where family members have had to take legal action in order to gain access to their loved ones' online accounts. 
Rachel Thompson from UK, being one of them. Her husband, Matt passed away and she had to sue Apple in order to gain access to his Apple account and photographs. 
Situations like Rachel's and Maureen's are unfortunate and could have been made easier if their loved ones had a digital accounts inheritance plan in effect. Without these plans, in most cases, in order to access a deceased person's online account, you will be required to present both a grant of probate and a court order. 
There's a good probability that there are several uncounted & identical stories about loved ones who died without leaving a will. Most of the time, we never hear such stories because court battles are not the easiest, and no one wants to have another thing to worry about when grieving the loss of someone extremely dear and valuable.
So, in the case of Apple's new 'legacy contact' feature, is it sufficient to provide you access to and control over your loved one's digital assets?
For your Apple account, while this may simplify the process of acquiring the data, payment information, subscriptions, licensed media and Keychain password data will not be included.  Your Apple TV subscription, for example, may continue to charge your credit card after you pass on, even though you're (obviously) not using it. So, while Digital Legacy this is a step in the right direction, it is still an incomplete solution. 
The 'Big 3', What's the Current Scenario?
Let's take a look at the legacy policies of the Big 3 Tech Giants.
Apple: 
The new Digital Legacy feature will allow users to assign a 'legacy contact'. These contacts will have access to any password-protected information, except credit card and payment info found on the device or in the iCloud account storage.
Legacy contacts will have to sign in using a "legacy contact Apple ID," and key.
They will have to provide proof of death before they will be able to access the user's information. 
Facebook:
Users can assign a 'legacy contact' to memorialize an account or request to delete the account after death.
Both options have specific requirements to enact them.  
To Memorialize Account: 
The 'legacy contact' can accept friend requests, pin a tribute post to the profile, change profile picture and cover photo.

They can decide who sees and who posts tributes if the memorialized account has space for tributes.

Family members or close friends can use this form to request to memorialize an account by providing an obituary, death certificate, memorial card, or other documentation confirming that they've passed away.
Delete Account:
A verified immediate family member or an executor can request to delete an account via this form.
A copy of the Death Certificate must be submitted for this option. If a  death certificate cannot be provided, an obituary, memorial card or other documentation confirming that they've passed away can be submitted.
Google:
Users can assign a relative or executor to close the account of the deceased user, submit a request for funds, or obtain data.
Each of these options has their own requirements and limitations. 
Users can also leave instructions if their account is inactive for a designated period of time here. 
Close Account (Google Account, YouTube):
Passwords or other login details are not provided. 
Government-issued ID of the relative/executor and death certificate of the account holder must be submitted.
Certified, notarized, English translations, prepared by a professional translator, are required if documents are not in English.
Request for Funds (AdSense, Wallet):
Documents required – court-certified letters of a testamentary, scan of relative/executor's govt-issued ID, decedent's death certificate.
Certified, notarized, English translation, prepared by a professional translator, is required if documents are not in English.
Obtain Data (Blogger, Drive, Gmail, Google+, Google Photos, YouTube):
Government-issued ID of the relative/executor and death certificate of the account holder must be submitted.
Certified, notarized, English translation, prepared by a professional translator, is required if documents are not in English
If the request is accepted, the relative/legal representative needs to obtain a court order, issued in the US (Google LLC provides the necessary language), in order to transfer the data.
Paypal:
Paypal is a pioneer in Peer-to-Peer digital payments (including several crypto options). Given their status in the industry and their ability to transfer funds instantaneously, you might expect that they would have an equally efficient method of handling the account disbursement of an incapacitated or deceased account holder. Unfortunately, they don't.
Paypal's current policy regarding account owners who have died requires the fiduciary or executor to gather physical, paper, copies of all relevant documents to prove the person has died and that "the Requestor"(the fiduciary or executor) has the authority to make decisions for the deceased. These documents must then be sent, via the mail, to a P.O. Box to the attention of the ICA Department (they handle a variety of compliance tasks, including accounts of deceased users).  Among the items required:
A letter from the Requestor naming the account they wish to access.
The Requestor's contact information (including a copy of their photo ID).
A copy of the death certificate.
A copy of the deceased will (or other documents) that identifies the executor. 
A link to Paypal's instructions can be found here.
Paypal deserves credit for taking an essential first step (that many others have not): they recognized the need for and developed, a policy and mechanism for dealing with the accounts of deceased users.  
The question is, why not take a digital approach? 
Are These Policies Sufficient?
Passing on digital assets is not as simple as handing over the passwords of your account to your loved ones (this in many cases may be a violation of privacy laws). 
Companies that provide online accounts (which includes nearly every company on the globe) must begin to consider how to manage requests for deceased accounts.
The surviving family prioritizes accounts with sentimental or financial significance above other accounts.
Protecting a loved one's digital legacy should be as simple as it is to create the accounts. There should be minimal stress and steps involved. The solution should give access and control to all the assets in the account without restrictions or exceptions. 
The awareness of digital assets is growing, and the Covid-19 pandemic serves as a stark reminder of how unpredictable life can be.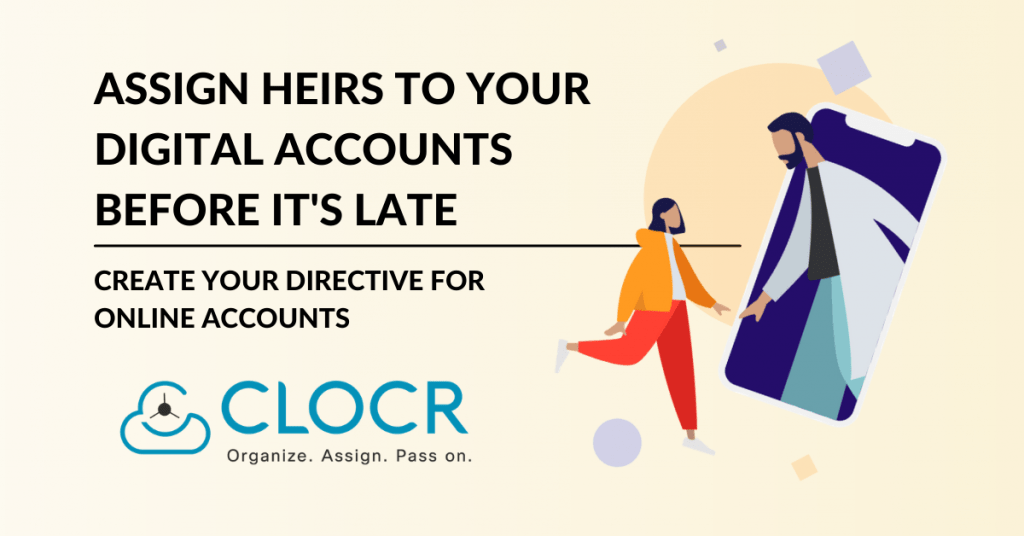 The good news is that companies like Clocr are ahead of the curve when it comes to providing the right solution for both consumers and corporations. Creating a clear directive for digital assets that assigns nominees and empowers them with the right to ownership will simplify things for your family and minimize any dispute in the future.  
You may, however, include a boilerplate statement in your will or directive that identifies beneficiaries/nominees of your online accounts. It, however, doesn't solve the problem of clearly identifying the online accounts, corresponding user ids.   
Even in the unlikely event where every single service provider offered a legacy plan for their customers, unless this information is consolidated in a single platform, the surviving nominees will face the same challenge that exists today: tracking down all of the accounts and legacy information. As a result, a legacy platform like Clocr, which was built to help manage, preserve, and pass on online accounts, is required. 
Clocr is an all-in-one
digital legacy platform

with patent-pending security features that securely store and manage all data. It is a safe and legal way to pass on your digital legacy.