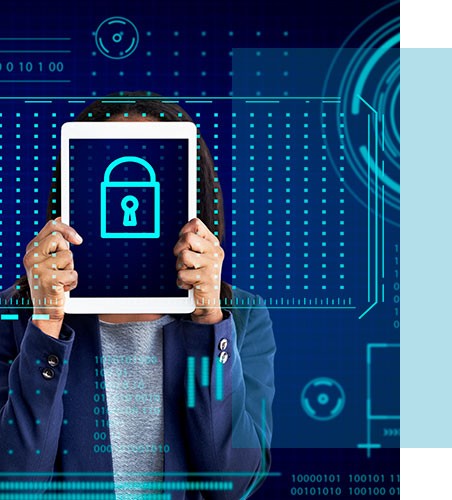 Clocr, your personal Digital Vault, is built on a unique, proprietary and patent-pending security platform that uses InterPlanetary File System (IPFS) and blockchain concepts that provides additional layers of protection.

Our patent pending security protocol digitally SLICES the files, critical information, and passwords into smaller fragments and  DISTRIBUTES these fragments across multiple decentralized storage locations.
Beyond Bank-level Security

The fragments are assembled only when the users access them. Clocr is hosted on AWS and uses 256-bit AES encryption and multi-factor authentication.

Clocr offers an Ultra-Security feature that is built on IPFS and Blockchain concepts, provides additional layers of protection that are unique and proprietary.

Clocr locks down access at every layer. No one other than you can access your data.
Multi-factor Authentication

In addition to strong password, we have multi-factor authentication to offer additional layers of security.
Application Security | Pen Tests

We engage renowned, trusted third-party security firms to perform vulnerability testing, audits and penetration testing of Clocr application and infrastructure.

We built Clocr to be totally secure from ground up. Security is in the very fabric of Clocr's architecture and culture. Refer to Amazon AWS security guide for more details.

Clocr is 100% cloud native and hosted on Amazon Web Services(AWS). We leverage many AWS components to provide a reliable, fault-tolerant, and highly available systems in the cloud.

Clocr takes extreme measures in safeguarding your data and continually researches and employs new ways to protect your data.

We use the highest standard in network communications to provide bank level security. Data is transmitted using TLS 1.2 with AES 256 encryption, preventing any man-in-the-middle attack or data snooping.