It's often a tough ask to sign a sympathy card. We try to find the right words for the situation and wonder what could be reassuring. We fear saying anything inappropriate or hurtful. But even if it's challenging, it's the need of the hour sometimes to express sympathy. Although our words cannot erase the agony of losing a loved one, they may go a long way in making a person in grief feel loved and supported. This article might help you find the right words during these difficult times and show you how to sign a condolence card. 
How do you sign off on a sympathy card?
Finding the perfect words to express your condolences can be challenging when signing a sympathy card. Our emotions, as well as those of the deceased, are intense, and we often fear finding the right words, making the situation worse, or we wish to avoid it altogether. Nothing can make a person's pain disappear, not even the most excellent words of compassion. But following a traumatic loss, the grieving can value honest words of compassion and support. If you wonder, "How do you sign off on a sympathy card?" Don't stress about writing a perfect message; just letting the mourning family know you care will help them get through this difficult time.
If you're signing as a member of a close family
Below are examples of how to sign a sympathy card for loss of mother or how to sign a sympathy card for loss of father.
We shall stick together as a family and comfort one another through this challenging time. With love at this trying time, [Signature].
[Name] always handled their interactions with us with honesty and compassion. They added a spirit to our family that I shall miss. I share your sorrow. [Signature].
Our entire family mourns with you. We appreciate being a part of your family and wish to support and uplift you at this trying time with brotherhood and affection [Signature].
[Name]'s kindness and charity affected a significant number of individuals. Let's come together to find courage throughout this challenging period—[Signature].
Our lives were made so much happier by [Name]. We can honor their life and recall our family's enjoyable moments. I feel your pain, [Signature].
If you're signing as a good friend
Below are examples of how to sign a sympathy card for a neighbor.
Your suffering makes my heart ache. I'm here for you if you require anything during this difficult time. I'll check in the following week to see how you're doing. I will always cherish you and [Name], [Signature].
I feel such deep sorrow for your loss. Throughout this traumatic period, I am here for you. I'm sending you and your family my love and my condolences—[Signature].
I'm thinking about you and your family. I'm grateful to be a part of your life and hope I can bring you some solace and courage at this trying time—sincere condolences, [Signature].
Sincere sympathies to you and your wonderful family. I'm here if you need someone to talk to or lean on with heartfelt condolence, [Signature].
If you are signing as a business
Below are a few examples of how to sign a condolence card for coworker or how to sign a sympathy card for a client.
We are happy to have you on our team and are heartbroken to learn of your loss. We are thinking about you. We hope you get better, [Signature].
We are sorry to hear about your loss, and we want you to know that we are here for you. Accept our heartfelt sympathies, [Signature].
We're all incredibly sorry for your devastating loss. We hope that we can help you feel better. Take as much time as you require—sincere condolences, [Signature].
After learning of your loss, our hearts are heavy with pain. Please know that we are thinking about you and your family at this trying time. We hope you get better, [Signature].
 We are sending you comfort and tranquility at this trying time. Whatever you need, we are here to help with kind thoughts, [Signature].
How do you sign a family funeral card?
After a loss, sending sympathy cards and messages to the grieving can be a helpful way to provide them with emotional assistance. They can help us recognize and understand the emotions of others. Additionally, they can serve as a reminder to the deceased that people are thinking of them. They also serve as a means to express your thoughts. 
Sometimes those who have recently lost a loved one are distraught and unable to communicate with you. If you cannot attend the cremation or memorial ceremonies, sending condolences along with a thoughtful gift, flower arrangements, or another sympathy offering is a means to let them know they are in your thoughts.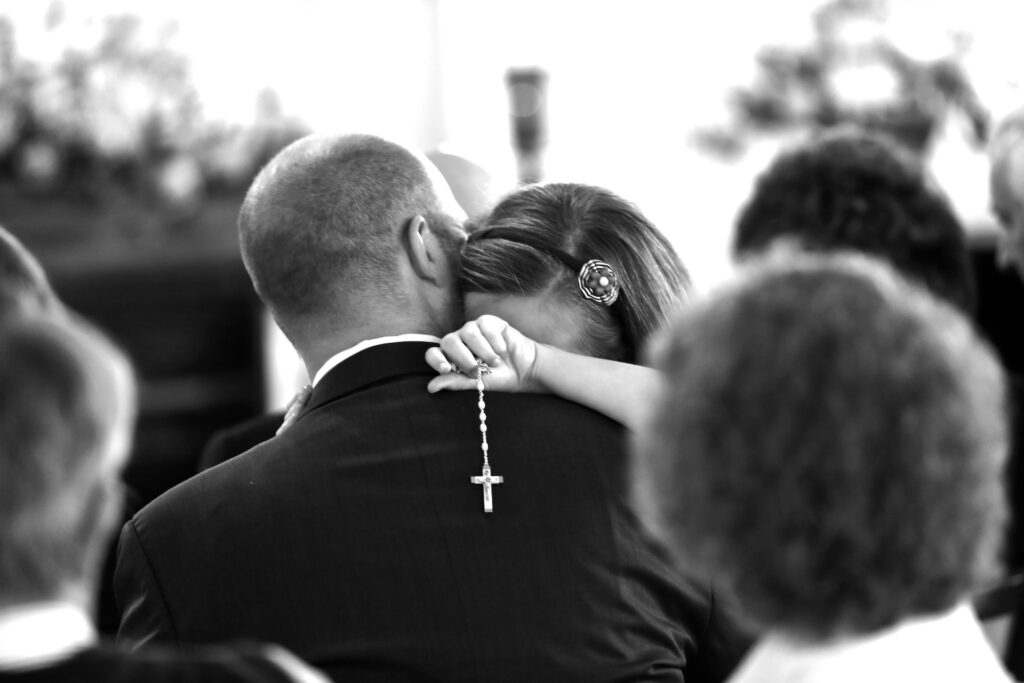 What is a good closing for a sympathy card?
Even a tiny note of condolence may be reassuring and kind. It could offer direction and assistance to help the grieving cope with the loss. The note's tone has to convey warmth, compassion, and empathy ideally. When communicating with someone, be mindful of their cultural and religious traditions. You might want to refrain from imposing your beliefs about death and the afterlife unless you have common religious beliefs. This is why it is crucial to know how to sign a sympathy card religious not to offend anybody.
Instead, concentrate on more personal statements that have a similar impact. In some circumstances, humor may be appropriate, but proceed with caution and be sure you acknowledge the seriousness of the situation first. Expressing your thoughts in a sympathy card might be difficult, but one need not be a skilled writer to curate a heartfelt sympathy card. You will benefit yourself, the grieving, and the connection you share with them if you can gather the courage to deal with the loss and grief head-on.
It is frequently far more challenging to see the mourning person and start a conversation face-to-face if you haven't spoken or written anything. Let your honesty and compassion go through; don't stress about being perfect. Avoid saying statements like "They are in a better place" or "Time will heal the pain you are feeling" when writing to someone grieving.
Examples of how to sign a sympathy card?
Salutations and Greetings
Begin by wishing the receiver a blessed day and offering sympathy for their loss. A good salutation for sympathy card could be, "To the receiver, we express our profound condolences," or "Good friend, please accept my heartfelt sympathies."
Words to use in a letter's body to express sympathy
After that, say something kind about the departed, whether it be an old story or a general statement of their life. For instance: "Sarah was a remarkable woman. So many people in our neighborhood will miss her dearly. Or, "I'll remember your brother as a nice and kind boy who always had a grin on his face."
Words for reaching out for help
A note of sympathy is the ideal time to help the grieving in valuable ways. There are various ways to help, like providing meals, traveling needs, helping with errands they can't do, or just a shoulder to cry on. It's even better if they don't need to ask further because they could be overburdened. Say, "I'm preparing a casserole and will drop it over so that you don't have to cook for a few nights," if you're delivering food for a grieving family.
Final blessings and thoughts
If you wonder, "What is a good closing for a sympathy card?" Provide an expression of support for the bereaved before concluding. For example, say, "Our sympathies and prayers are with you." Alternatively, if you want to know how to end a sympathy card, "May your wonderful memories of Steven support you at this most trying time."
This article assists you if you find yourself wondering, "How do you write a sympathy card example?". To make the messages work, you might need to mix and match, add your touches, or alter some aspects, but you will have many possibilities and inspiration about signing a sympathy card.
We at Clocr help you to plan for the inevitable tough times. Our services like Digital Time Capsule helps you record messages for your loved ones that can be stored and viewed online till eternity. Join us today and build an ever-lasting digital legacy.