Have you ever wondered what would happen to all your assets after your death or if you were incapacitated? Who would handle your assets to secure your loved ones' futures? Can you help your family be at peace during an exceptionally difficult time in their life?
Estate Planning helps you achieve this.
By creating an Estate Plan, you would provide security and direction to everyone around you. Your loved ones would know where to find your last wishes, your Executor would understand how your Estate needs to be handled, your next-of-kin would receive their distributions to live a financially secured future, and you would know you did everything you can to protect your family.
What you'll learn from this article:
What is an Estate?
The cash you hold, the returns on your investments, and any physical assets you own, together, comprise your Estate. Essentially, your Estate is the financial valuation of your earnings—in whatever form they might be. Commonly, some financial holdings that form your Estate are:
Bank Accounts
Cash
Investments
Retirement Savings
Real Estate
Artwork
Jewelry
Business Assets
Household Furnishings
Vehicles
Computers
Digital Assets like Photos and Cryptocurrency
Debts Owed to the Deceased
Stocks and Bonds
Life Insurance
Pensions
Assets in Foreign Countries
If you hold at least one of these assets, you have an Estate! (Pro Tip: plan for your Digital Estate too.)
Once you've realized you have an Estate, ask yourself: what would happen to my Estate if I were to pass away?
An efficient and legal solution to this question is Estate Planning.
back to top
What is Estate Planning?
Generally, Estate Planning is the process of transferring everything you've accumulated throughout your life to the people you choose. At first glance, Estate Planning seems like something that simply helps you pass on your assets. However, the benefits of Estate Planning extend beyond its legal scope to secure the assets and items in your Estate.
Estate Planning helps you make legal plans for your Estate, your loved ones and yourself while you're still alive and even after your death. Along with passing on your assets after your death, you can choose who should take decisions on your behalf in medical or financial emergencies, or create Trusts to reduce taxes.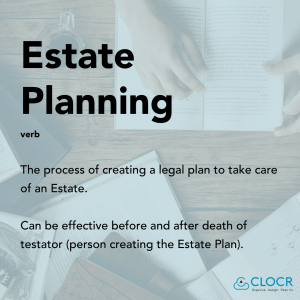 The benefits of Estate Planning include saving your loved ones from long and expensive hours at probate, helping them understand you better and execute your plan for your Estate more efficiently, and even making funeral arrangements.
This process of Estate Planning, although long and sometimes complicated, is the only legal solution to ensure your Estate is secured through a plan that you created with careful thought and consideration. COVID-19 has made this process simpler.
Understanding the Process of Estate Planning
Broadly, the process of Estate Planning has three levels:
Identifying Estate Assets: You cannot create the right Estate Plan if you do not know what your Estate contains. The foundational step is to identify and list out all your assets.

Use this checklist to identify your Assets.
Mapping out Estate Wishes: The purpose of Estate Planning is to ensure that your Estate is handled the way you want to. Writing down all your wishes can help you and your loved ones arrive at a common goal for your Estate.

These could be naming who gets what, who executes your wishes, who should make decisions on your behalf, etc.
Creating Legal Documents: Your Estate Plan is an Estate Plan only if it is legal, otherwise they are just wishes. Filling out legal documents will help you give legal authority to your plan.

For example, Beneficiary Designations give legal rights to the people you've named to get something in your Estate, a Medical Power-of-Attorney will provide legal authority to the person who takes emergency medical decisions on your behalf, etc.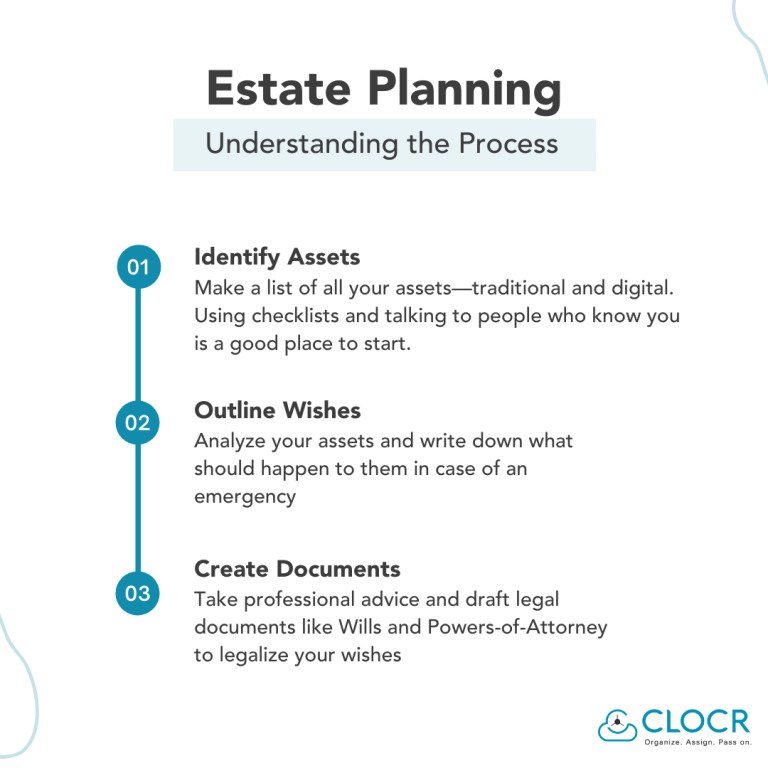 Once you have created an Estate Plan, different parts of your plan go into effect at different times, based on the documents you fill. While some, like Trusts and Living Wills, get activated immediately, others, like your Last Will and Testament, can be executed only after your passing.
This process of Estate Planning outlines how you can understand what Estate Planning is, and how you can get started with a basic plan that legalizes your (last) wishes for your Estate. A more refined Estate Plan would require you to update it regularly, consult with professionals, add Digital Assets, etc.
Estate Planning for Digital Assets
A largely overlooked part of Estate Planning is adding Digital Assets to it. These include your photos and videos, cryptocurrency, and sometimes, even your social media accounts.
Making your Digital Assets a part of your Estate Planning process ensures that your digital data is protected from identity theft, saves your loved ones from expensive, time-consuming battles at court to gain access to your accounts, and transfers the financial value of your Digital Assets to your Beneficiaries.
Key Takeaways
Everyone has an Estate—no matter how modest or how large
First step to Estate Planning is identifying items in your Estate
Estate Planning Documents legalize your plan
Make Digital Assets a part of your Estate Plan
back to top
Now that you know what Estate Planning is, get started with one for your Digital Assets right from home.