Efficiently organize, manage, and share your most important documents, information with family, friends, or business partners.
Clocr has pioneered in the development of a state-of-the-art ultra-secure digital vault that is built on a unique, proprietary security platform. We digitally shred the files, encrypt fragments and spread them across different cloud locations
We're proud to be the category leader in estate planning on Trustpilot. Don't take our word for it, check out what our members have to say about us.
I struggled keeping a track of all my critical documents at one place. Even bigger was the struggle to remember passwords as different platforms had different rules for passwords and I didn't want to have a single password running across all. And this is where Clocr was such a big relief. I dumped all of my critical pieces in there and I don't worry about forgetting passwords anymore. I recently reset a password for a portal and I updated the same in Clocr. Quite fast and simple - I must say.
With so many digital accounts, it sometimes gets overwhelming trying to keep track. Clocr really helped me consolidate and organize all my digital assets in one place! It was so easy to sign up and use! I am not one to contemplate my death, but Clocr will really come in handy if something does happen to me. They also have this cool feature of leaving your loved ones (or even yourself) a time capsule that can be viewed later...pretty fun without getting too sombre!
Take a moment and think about how many online accounts you have. And not just your email and bank accounts, but all of the social media sites, and places you shop, and dine, and don't forget travel. Pretty soon, you have a pretty lengthily list. The question is, what happens to those accounts if/when something happens to you and you are no longer around? Who will take over or will be responsible for closing all of these accounts?You might think that this isn't a big deal, and who really cares about my Starbucks stars anyway? But what if you want to make sure to leave these items to you someone you care about? How do you do that?Well, I've tried Clocr, and they have developed an application to solve this ever-growing problem. The ability to organize all of this information in a single place, and then identify who should take over on your behalf is just what is needed.Perhaps in the future individual companies you have relationships with will provide a means to address this problem, but for now, the only solution I've found to address this issue is Clocr.
I like the idea of saving important data in one place so that it could be very easy to manage. This website helps to facilitate and simplify the bureaucracy and procedures for people who lost their important documents, saving time and money. Also, it's very easy to use: you can quickly learn how to do all operations.
Over the course of your life, you collect a bunch of assets that can be lost... and when you really need them, it could be an unexpected surprise for you and a long process of restoring.CLOCR is an innovative digital asset storage solution. With this service, people can store and manage all their important information on a secure platform with access when they need it, and from anywhere.Great deal!

Yuriy Dobrianskiy
2020-08-31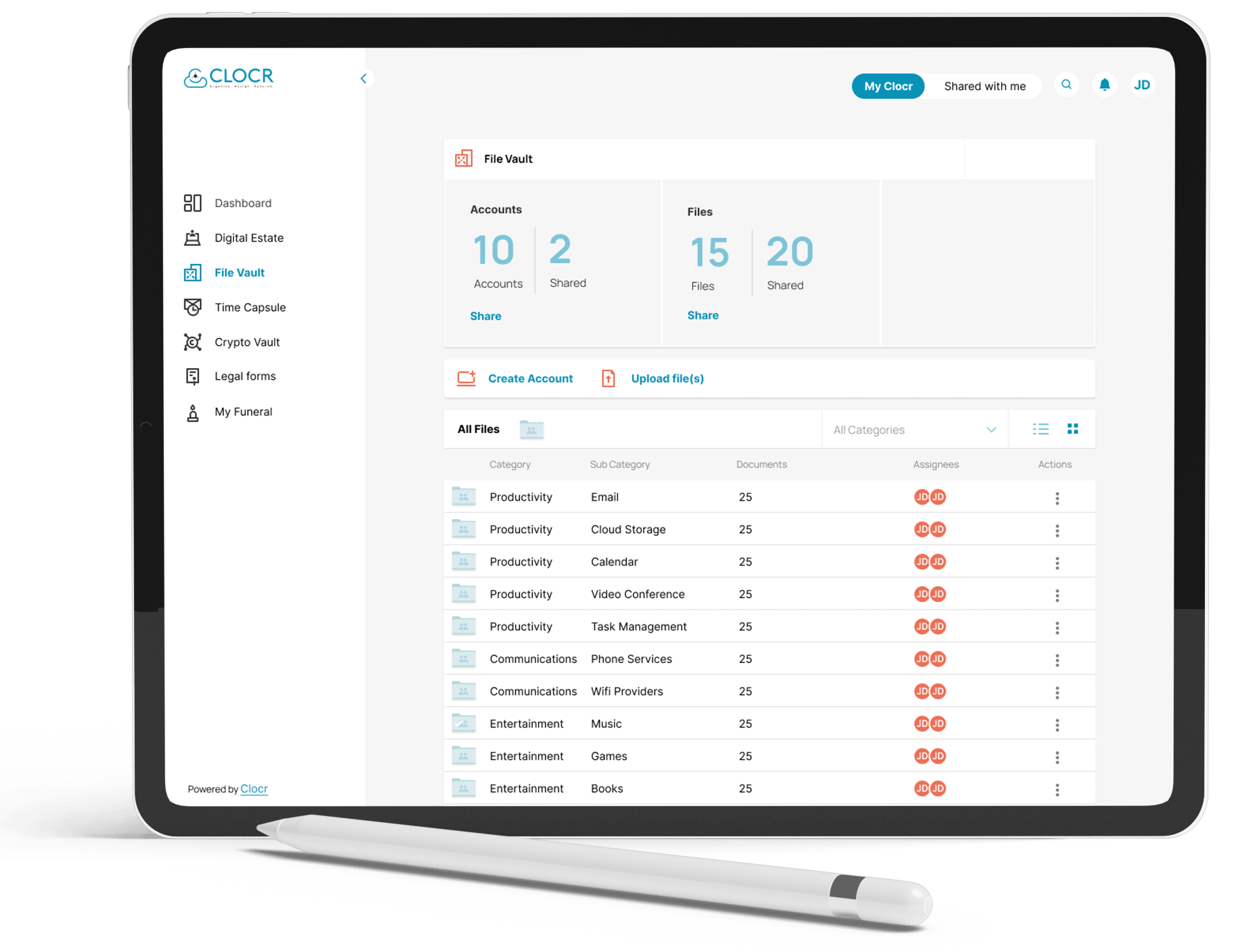 Not sure where to start? We can help.